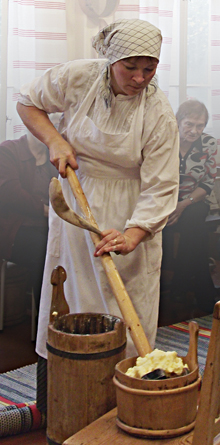 Experience the characterful Torne Valley
and the international Torne River
Allow us to introduce you to traditional life in the Torne Valley. An exhibition on the history of our village has been set up in Pekanpää's old school.
We hold presentations where we demonstrate how to sharpen a scythe, how to make a birch whisk for the sauna, how to churn butter, wash laundry using a washboard and how to card and spin wool. Try them out yourself to see how good you are at this old-fashioned work. You can also taste some freshly-churned butter.
We put on small performances about our history. Topics include smuggling, displaced people, the Lapland War, fishing and how our village got itself a school.
Food - coffee - souvenirs
We serve coffee and food in a cosy small classroom. When you book a group reservation, you can also choose to order catering. You can choose traditional dried meat stew or salmon soup, with Finnish squeaky cheese or a buttery bun to accompany coffee.
Our souvenirs include Finnish "puukko" knives and postcards.
So what's the story behind the school?
Over 100 years ago the imperial senate decreed that a school building was to be built in Pekanpää. The men of the village supposed that they might as well get on with it. So they bought a handsome log building, which they constructed high on a hill on the banks of the Torne River. And what a schoolyard the building had with its sandy banks and tall firs.
They brought in a teacher called Tyyne, so the school was named "Tyynelä". At that time, there were lots of children who attended the school and then flew the nest.
Pekanpää entered into a new period. Now there were fewer children, and they were taken to the next village. Tyynelä stood abandoned and lonely. Then came along some enthusiastic and clever women who put their heads together and declared:
"This building should become a haven for information about us, our traditional way of life and our history!"
So they rolled up their sleeves, got to work, applied for funding and the doors were opened to the public!
Open to groups, contact us for more details!