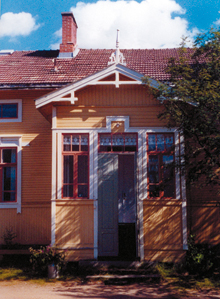 Come and visit us!
Stop by, and bring your friends with you! No need to be shy, feel free to have a laugh and let your hair down. It wouldn't be much of a holiday if you don't live a little and enjoy yourself! We speak the regional dialect, "meänkieli", which makes us feel right at home. Try our home-made churned butter, delicious on our traditional flatbread. Have you ever heard of doing your laundry with a washboard, or carding wool? Try it out and see if you're any good.
In addition to fresh butter, you can also try our "Ternijuusto", which is cheese made from the first milk given to a calf. We stick to serving traditional food, it's much better than the stuff they serve these days.
You can find out more about the smuggling that went on in the area. And of course, our presentations include customs officers. Sweden is just a stone's throw away, after all.
So that's the Torne Valley and our programme service for you!
Call us in advance so we can be sure to meet you!